After the completion of Food Conference 2019 at Rome, Italy, we are very happy to organize our Webinar on Nutrition & Food Science to be held online under the theme, "Uniting the World to Promote Health & Food Care"
Food Conference 2021 showcases the best practices in the world, and provides a one-of-a-kind forum to explore the complete spectrum in food research from basic nutritional essentials to food security, management and advancement in processing technologies. We aim to narrow in on your scientific niche and connect with the experts in your field.
Food Conference 2021 brings together Food Scientists, Sensory analysis, Food Analyst, Flavor Scientists, Nutritionists, Agronomist, Microbiologists, Chemists, Quality Assurance Specialists, and Quality Assurance Managers, Specialists in Food and Beverages, Product Recall Specialists, Product Development Specialists, Quality Control Specialists, Machine Development Specialists, Equipment Handling Specialist etc.,. This is one kind of scientific platform with explicit keynote lectures, plenary sessions, Poster competitions from elite researchers, distinguished scientists and business delegates.
We provide unique opportunity for Researcher's, Advertisers and Sponsors at this International event to share their ideas and improve their Network.
Food Conference 2021 welcomes everyone to join us for two – day webinar in the month of March.
Aim & Scope:
Food Conference 2021 is mainly designed to offer diverse sessions that address the theme "Uniting the World to Promote Health & Food Care" and explore advances in research and education in relation to disparities as well as a breadth of other topics. The field of Nutrition have not only helped the development in different fields in science and technology but also contributed towards the improvement of the quality of human life to a great extent. All this has become possible with the different discoveries and inventions leading to the development of various applications. Many advances have been taking place. More over present technologies have added new dimension to the field of Nutrition. This will enable scientists to find answers they have been searching for. The business entrepreneurs can bring it to the market and the students can get inspired to learn more and work towards benefit of mankind. Today the market analysis of this field indicates that Government, private institutes and many others are investing more in this field as this has assuring future. The industrial output from the scientific developments in this filed are promising.
Conference Highlights:
Discover new and cutting-edge research in Food Science & Technology
Discussion of advanced technologies used in food processing
New manufacturing techniques, food production, consumption & safety
Benefits of Participation:
Learn new ideas for serving clients
Gain inspiration and networking experience
Engage your mind and enrich your heart with new insights
Discover how advances in the health sector are impacting globally
Share experiences, insights and strategies in interactive peer-to peer round tables and many more
Target Audience
Nutritionist
Food Technology Researchers
Clinical Nutritionists and Dieticians
Health care and Fitness Professionals
Nutrition Associations and Societies
Business Entrepreneurs
Integrated Health promoters
Industry Professionals
Manufacturing Devices Companies
Basic and Clinical Research Scientists
Market Analysis
Food & Beverages segment amount increases from 737m USD in 2018 to 907m USD in 2019. The current top Food Science research countries are United Kingdom, United States, Spain, India, Brazil, Korea, China. China is a largest food markets in volume and value terms, because of its population size. But the Asia food market is growing constantly.
Nutrition Market is growing at a CAGR of 6.9% during the period of 2018 to 2025.
Finally the demand of food increasing day by day, but the resources globally reducing.
In Italy:
Italy is the third largest foodservice market in Europe.
Italy foodservice market is expected to witness a CAGR of 1.24% during the estimated period.
Income in the Food & Beverages segment amounts to US$653m in 2020.
Income is probable to show an annual growth rate (CAGR 2020-2024) of 9.8%, resulting in a market volume of US$950m by 2024 [1].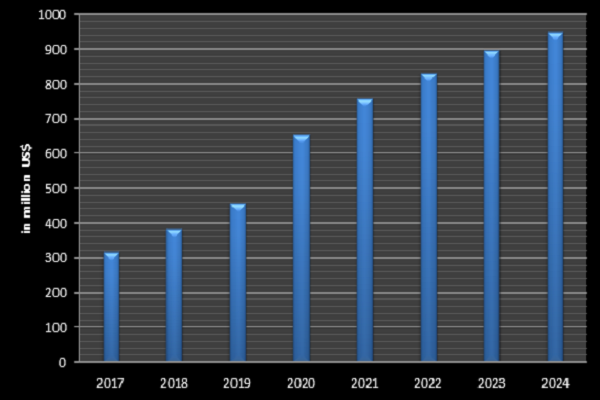 Figure: Food market revenue growth from 2017 t0 2024 in million US dollars.
In Worldwide:
The global food trade sales generate over $4 trillion per year. Food retail is dominated by outfits in the EU and the US, increasing their market share in developing nations and small retailers accounting for a growing share of food sales [2].
The global food retail market size was valued at USD 11.7 trillion in 2019 and is expected to grow at a compound annual growth rate (CAGR) of 5.0% from 2020 to 2027.
As a result of COVID 19 outbreak, the food retail market is witnessing a significant rise in demand globally [3].
References:
https://www.statista.com/outlook/253/141/food-beverages/italy
https://www.marketresearchreports.com/food
https://www.grandviewresearch.com/industry-analysis/food-grocery-retail-market
---
Related Topics:
Diseases and Conditions Influenced by Nutrition | Diet and Genetics | Food Chemistry | Food Packaging | Food & Nutritional Immunology | Food Processing | Food Industry | Food Technology | Food Toxicology | Food Science & Cardiac Care | Food Microbiology | Food Adulteration | Food Nutrition and Dietetics | Food, Vaccines and Medicine | Importance of Food Nutrition | Junk Food and Diabetes | Management of Food Waste | Molecular Gastronomy | Nutrition in Pregnancy Health | New invention in Nutrition science | Oncology Nutrition | Pediatric Nutrition | Quality Control | Sensory Analysis | Food Labeling | Food Engineering and Microbiology | Food Acceptability | Food Conservation and Preparation | Food Machinery and Packaging | Food Processing Technology | Food Safety and Hygiene | Food Science and Technology | Physiological Aspects of Food | Food Composition and Processing | Health claims on Food | Fermentation in Food Processing | Food Insecurity | Food Poisoning | Food Addiction and Intolerance | Food Contamination and Deficiencies | Nutrition and Food Sciences | Nutritional Aspects of Food | Nutritional Quality of Novel Foods | Bioavailability of Nutrients | Dietary Selection | Diet and Metabolic Syndrome | Nutrition Deficiency and Treatment | Community Nutrition | Molecular Nutrition | Nutrition and Physical Activity | Nutrition and Cognitive Functions | Nutrition in Developing Countries | Nutrition Therapies | Poor Nutritional Status | Human Nutrition | Healthy Diets | Parenteral Nutrition | Nutrition and Disease Management | Drug and Protein Metabolism | Food Regulations | Food Chemistry and Biochemistry | Food Processing and Technology | Food Packaging and Preservation | Food Analysis and Approaches | Food Microbiology and Enzymology | Food, Nutrition and Health | Food Legumes Research | Food Safety and Security | Bio Active Constituents of Food | Dairy Science & Technology | Food Colloids and Polymers | Food and Environmental Sciences | Food and Agricultural Engineering | Traditional Foods Vs Modern Foods | Food Substitution and Adulteration | Food - Quality Control and Quality Assurance | Beverages, Enology and Brewing Science | Seafood, Livestock and Meat Sciences | Agronomy and Agricultural Research | Food Nanotechnology | Agri Food Technology | Food Engineering and Processing | Chemistry of Food and Bio-processed Materials | Food and Dairy Technology | Food Choice and Consumer Behavior | Food Biotechnology | Food Preservation | Food Innovation and Management | Food-borne Diseases | Advancement in Food Technology | Food and Agricultural Immunology | Nutraceuticals & Nutrition Supplements | Seafood Processing | Sensory Evaluation | Enology and Brewing Science | Pharmaceutical Technology | Food and Flavor Chemistry | Meat Science and Processing Technology | Bioinformatics in FoodTech | Global Food Security | Food Industry Background | Food Authentication | Food and Quality Control | Food Consumption and Health Mapping Devices | Food Science | Sports Nutrition | Food Allergies | Functional Foods & Bioavailability | Food Microbiology and Food Quality | Novel Food Processing | Food Process Engineering | Food Chemistry and Analysis | Innovative Processing Technologies | Food Packaging and Shelf Life | Food Safety Compliance | Food Personalisation | New Protein Sources and related Technologies | Tailoring the Food & Function | Plastic Recycling | Food Waste Recycling | Multisensorics and Oral Processing | Emerging Food Safety Hazards | Hygienic Design | Nutritious Food | Nutrition and Nutritional Management | Nutritional Deficiency and Disorders | Probiotics in Nutrition | Nutrition and Cancer | Food Processing and Technical Methods | Food & Public Health Nutrition | Food and Nutritional Toxicology | Chemical reactions in foods | Food safety, security and sustainability | Food Storage and Preservation | Pediatrics nutrition | Nutritional Biochemistry | Nutritional Epidemiology | Food and Nutritional Immunology | Recent Advancement in Nutritional Science & Food Chemistry | Food packaging on nutrition | Foodborne Illness Complaints | Preventing Food Poisoning | Eating Disorders | Nutrition and Nursing | Nutrition and Diabetes | Nutrition in Clinical Practice | Nutritional Neuroscience | Nutrition and Health | Global Strategy on Nutrition | Public Health Research | Nutraceuticals and Medicinal Foods | Obesity, Diabetes & Endocrinology | Current Research in Nutrition and Dietetics | Nutritional Neuroscience and Eating Disorders | Nanotechnology in Nutritional Science & Food Biotechnology | Animal Nutrition | Agri-Food Technology | Food Chemistry and Bio Active Constituents of Food | Food Immunology | Nutraceuticals and Functional Foods | Food and Nutrition Research | Food Safety, Security and Quality Control | Food and Chemical Toxicology | Food Borne Diseases | Food Waste Management | Probiotics and Prebiotics | Food and Drug Analysis | Food Market and Economics | Food Supply Chain Management | Dairy Science and Technology
Related Conferences
Food technology conference 2020 | Food conference 2019 | International food conference 2019 | Food technology conference 2020 in India | Food microbiology conference 2020 | Food and nutrition conferences 2020 | Food conference 2020 Singapore | International conference on food science and technology | Food chemistry and technology conference | 4th international conference on food science and technology | Food chemistry conference 2020 | International conference on food processing technology 2019 | Nutrition conference 2020 India | Nutrition and health conference | Global nutrition conferences | Child nutrition conferences | Functional nutrition conference | Healthcare and nutrition conference 2020 | Nutrition society conference 2020 | Annual nutrition conference 2020 | ASN conference 2021 | Clinical nutrition conference | American college of nutrition conference 2019 | Nutrition education conference | Pediatric nutrition conferences 2020 | Nutrition conferences 2019 UK | Clinical nutrition conference 2019 | Food science and nutrition conferences | American society for nutrition | Clinical nutrition conference 2019 | Nutrition conferences 2019 UK | Pediatric nutrition conferences 2020 | American college of nutrition conference 2019 | Annual nutrition conference 2020 | ASN conference 2019 | Healthcare and nutrition conference 2020 | Dietetics conference 2020 | Nutrition society conference 2020 | Food science conferences 2020 USA | ASN nutrition 2021 | Food and nutrition conferences 2019 India | Nutrition CME conferences 2020 | Clinical nutrition conference 2020 | Nutrition events | Oncology nutrition conferences | Food and nutrition conferences 2020 | International conference in Italy 2020 | 3rd international conference on nutrition, food science and technology | Nutrition summit 2019 | Childhood obesity conference 2020 | Obesity health conference | Obesity conference 2020 UK | Obesity conference London 2019 | Childhood obesity conference 2019 | Obesity week 2021 | Obesity forum 2019 | Weight loss conference 2019 | Conference obesity | Obesity health conference | San Francisco obesity conference | Obesity conference London 2019 | Nutrition conferences 2020 USA | Obesity forum 2019 | Obesity society annual meeting 2019 | Agriculture conference 2020 | Agriculture conference 2020 in India | Sustainable agriculture conference 2020 | International agriculture conference in Canada 2020 | Digital agriculture conference 2020 | International agriculture conference 2021 | Agriculture conference in Europe 2019 | Agronomy conference 2020 | Agricultural extension conference 2020 | Agriculture 2020