About Conference:
Global Episteme takes pleasure to organize conference on "Experts Meet on Vaccine Research & Development" during October 25-26, 2021, Rome, Italy with a theme "A Global discussion on Emerging Vaccine R & D". The main highlight of Experts Meet on Vaccine Research & Development is to present the latest research findings, discuss new methodology and treatment approaches, to build and maintain essential networks between researchers and practitioners.
Experts Meet on Vaccine Research & Development will be platform to bring new ideas, research, methodologies and strategies encompass the field of vaccines and will include an impressive roster of eminent scientists, plenary speakers, invited speakers, keynote speakers and other participants around the globe to share their discoveries and to meet professionals in their field to foster new connections that enhance business and professional goals. It extends the opportunity to evaluate the emerging technologies and recent updates in oral health care across the globe.
AIM of the Conference:
Sharing of scientific knowledge and experience in all areas applied to Vaccines
Discussing and debating scientific advances and current challenges
Strengthening and expanding the human network of all involved in this field in Europe and globally
Providing opportunities for Early Career experts for their professional development
Identify knowledge gaps that need to be filled
Importance and Scope:
Experts Meet on Vaccine Research & Development Conference provides a great opportunity for scientists, academic and industry professionals to network and gain immense knowledge. Collaboration is the way to approach networking. When you are engaged with different individuals around the world, you position yourself as an expert. Widely acclaimed speakers, the most recent techniques, methodologies, and the most state-of-the-art updates in dentistry are indications of this meeting.
About us:
Our conferences will house a wide range of topics, in which vigorous research is going on. The topic includes Science and Technology, Medical, Pharma, Clinical, Engineering and so on. These conferences are tending to impart knowledge, techniques and innovations in the recent research. It gives a huge opportunity to exchange the pioneering thoughts to promote scientific discussions.
It is a warm welcome to the associations, societies, start-up's, universities to take part in our conferences.
Welcome Message:
Global Episteme Extends the heartiest welcome top proficient delegates, scientists, professors, students, young researchers, business executives, scholars, chemists and professionals to be a part of "Experts Meet on Vaccine Research & Development", during October 25-26, 2021, to be held at Rome, Italy. Conference includes Keynote presentations, exhibitions, oral talks and poster presentations on the theme "A Global discussion on Emerging Vaccine Research & Development"
Target Audience:
Immunology Researchers
Immunology Faculty
Directors, CEOs, Presidents and Vice Presidents
Medical Colleges
Vaccine Developers and Investigators
Vaccine &Immunology Associations and Societies
Directors, CEOs, Presidents and Vice Presidents
Clinical Data Management Companies
Business Entrepreneurs
Software developing companies
Training Institutes
Manufacturing Medical Devices Companies
Vaccines & Immunization, Scientists, etc.
Attendees can:
Take advantage of opportunities to learn insights about Vaccines from a variety of oral and poster presentations.
Meet and network with Vaccine ranging from students to deans, faculty, and researchers.
Take advantage of opportunities to collaborate with vaccine experts from around the world.
Attend prominent plenary sessions about relevant issues affecting vaccine production and the recent techniques adapted in development of Vaccine.
Why to attend?
With individuals from everywhere throughout the world concentrated on getting new ideas concerning Vaccines, this is the best chance to accomplish the greatest get-together of people from the Vaccine research groups. Famous speakers, quality presentations, recent frameworks, novel techniques for problems, recent techniques will mark the uniqueness of this conference. It will also pave way for making a good relationship with the vaccine researchers through the B2B meetings and develop better business opportunities.
Why Italy:
In Italy the vaccines research of a young population with an economy, transforming rapidly into a modern nation, needs a platform to plan and to translate those plans into reality. Today with a larger investments in science, research and developments which can intercept the growing necessity of modernization in social, health, security, scientific and economic sectors, need to have platforms like conferences, seminars , workshops and other related events which can throw light on different areas.
The Experts Meet on Vaccine Research & Development conference helps you to get detail ideas about these events where you can spell out your knowledge and research outcomes.
We welcome your heartily presence towards our two days Conference of Experts Meet on Vaccine Research & Development to the Economic city of Rome in the month of October
Young Scientist Benefits:
Our conferences provide best Platform for your research through oral presentations.
Share the ideas with both eminent researchers and mentors.
Young Scientist Award reorganization certificate and memento to the winners
Young Scientists will get appropriate and timely information by this Forum.
Platform for collaboration among young researchers for better development
Award should motivate participants to strive to realize their full potential which could in turn be beneficial to the field as whole.
Conference Highlights:
Vaccines against Viral and Bacterial Diseases
COVID-19 Vaccine Research & Development
Vaccines for Respiratory Diseases
Human Vaccines - Infectious & Non Infectious Diseases
Vaccine Research & Development
DNA Vaccines
Next-Generation Vaccine Delivery Technologies
Vaccines safety & Efficacy
HIV/AIDS Vaccines
Vaccines Business Development
Vaccine Adjuvants
Immunology/Animal Models
Childhood Vaccines and Maternal Vaccines
Cancer Vaccines and Immunotherapy
Human Preventive & Therapeutic Vaccines
Vaccines for Vector-borne Diseases
Vaccines for Older Adults
Veterinary Vaccines
Hepatitis Vaccines
Mucosal Vaccines
Scientific Sessions:
Therapeutic Vaccines
Combination & Conjugate Vaccines
Vaccine Adjuvants & Delivery Systems
Immunoresearch & Immunotechnology
Next-Generation Vaccine Delivery Technologies
Innate and Adaptive Immune Responses to Vaccination
Regulatory issues, updates and guidelines
Spirochetal Diseases Vaccine Durability
Vaccine Safety, Monitoring, and Evaluation
Vaccines Efficacy & Clinical Trails
Vaccines for Pregnant Women & Neonates
Pediatric Vaccination
Animal Models & Clinical Trials
New Vaccine Development
Emerging & Re-Emerging Diseases
Vaccines Against Respiratory Pathogens
Infectious & Non-Infectious Diseases
Age-specific Immune Response to Vaccination
Cancer Vaccines & Immunotherapy
DNA & Synthetic Vaccines
HIV Vaccine
Zika Virus Vaccine
Influenza Vaccine
Bacterial Vaccine
RSV, Malaria & TB Vaccines
Veterinary Vaccines
Covid Vaccines
HPV vaccine
Viral Vector & RNA vaccines
Novel Vaccines and Vaccine Products
Market Report
A vaccine is a preparation used to prevent contraction of a particular disease by triggering an immune response to that disease. The global Vaccine Market was valued at over USD 32.5 billion in 2015 and is expected to grow at a CAGR of 10.3% over the forecast period. The global vaccines market is projected to reach USD 58.4 billion by 2024 from USD 41.7 billion in 2019, at a CAGR of 7.0% during the forecast period.
The global vaccine market is growing significantly due increasing initiatives by non-government organizations to provide immunization and improvement in production technique of vaccine in the industry.
The topic of vaccine safety became prominent during the mid 1970's with increases in lawsuits filed on behalf of those presumably injured by the diphtheria, pertussis, and tetanus (DPT) vaccine. To respond to public health concerns, Congress passed the National Childhood Vaccine Injury Act (NCVIA) in 1986, which in turn led to the creation of the National Vaccine Program Office (NVPO) within the Department of Health and Human Services (DHHS).
The National Vaccine Injury Compensation Program, which was also created by NCVIA, compensates those individuals who have been injured by vaccines on a no-fault basis. On a global basis, the World Health Organization (WHO) is actively involved in ensuring the quality of vaccines.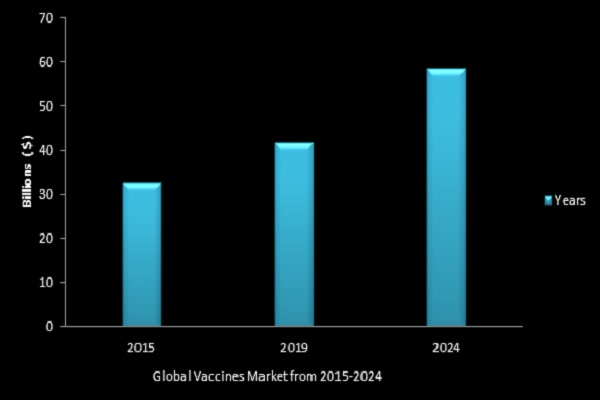 References
Keywords:
Vaccination | inoculation | infection | immunization | disease | antigen | immune system | prophylaxis | vaccines | nutrition | rotavirus | molecule | protection | sensitization | antibody | microorganism | Pathogen | Bacteria | vaccines for children | travel vaccines | new vaccines | Veterinary Vaccines | Epidemiology | Immune Mechanisms | Vaccine Adjuvants | Vaccines and Society | Pathogens-host Immune Interface | Immunology Mechanisms | Animal Models for Immunologic Diseases | Pharmacology | Toxicology and Pharmaceutics | Biochemistry | Genetics | Molecular Biology and Microbiology | Influenza Vaccine | Cholera Vaccine | Bubonic Plague Vaccine | Polio Vaccine | Hepatitis A Vaccine | Rabies Vaccine | Autoimmune Disease | Bacteriology | Cancer Immunotherapy | Epidemiology | Immunology | Immunomodulators| Immunopathology | Immunopharmacology | Parasitology and Virology | Vaccine Technology | Vaccine Adjuvants | Prophylactic Vaccines | Therapeutic Vaccines | Genetic Vaccines | AIDS Vaccines and Vaccines in Bioterrorism | Genetics in Treating Human Disease | Gene-Based Therapy and Drug Delivery | Development of New Biocompatible Delivery Materials | Design of Effective and Safe Vectors | Applicability in the Pharmaceutical and Biotechnology Community | Cardiovascular biology | Veterinary vaccines | Human vaccines | Immunology | Animal models | Viral vaccines | Therapeutic vaccines | Antiviral therapy | DNA vaccine | Plant based vaccines | Cancer immunotherapy | Vaccinations | Autoimmune disease | Virology | Epidemiology | Adjuvants | Vaccinology | Types of Vaccines | Human Vaccines | Veterinary Vaccines | efficacy evaluation of vaccines | Production and manufacturing | Vaccine technology | Delivery Systems | Vaccine adjuvants | Vaccine vectors | Vaccine immunology | Animal models for immunologic diseases | Viral immunology | Vaccine development | Vaccination and Vaccine Safety | Vaccine Epidemiology | Vaccines in bioterrorism | Policy and regulatory affairs | Commercial utilization of Vaccines | NeuroImmunology
Related Conferences:
vaccines summit 2019 | vaccine adjuvant conference 2020 | vaccine technology conference 2020 | vaccines r&d 2020 | vaccine elsevier conference | vaccine conference in Thailand | vaccine research conference 2019 | maternal immunization conference | upcoming conference on vaccine all over world | world conference on vaccine and immunology | world vaccine congress 2020 | world vaccine congress ibio | world vaccine summit 2020 | vaccine world asia congress 2020 | vaccine conference today | world vaccines congress europe 2020 | beis 2020 | boston conference april 2020 | nano conference boston | boston biomedical conference | scientific conferences 2020 usa | cdc meeting today | vaccines summit-2021 | 2019 immunization conference | nyc immunization coalition meetings 2020 |world vaccine conference 2020 | national immunization conf | vaccines summit-2021 | national immunization conf | national immunization congress | immunization conference 2019 | national immunization 2019 | vaccinology conference 2019 | scientia meetings | vaccinology conference 2019 | immunization awardee meeting | immunization conference 2019 | rotavirus conference 2020 |cdc meeting june 2019 | vaccine u.s. congress | kevin galalae | game theory vaccination | vaccine Washington | world vaccine summit 2020 | beis 2020 | boston conference april 2020 | nano conference boston | boston biomedical conference | scientific conferences 2020 usa | biomedical engineering conferences | vaccines summit 2019 | vaccine adjuvant conference 2020 | vaccine technology conference 2020 | immunization awardee meeting | vaccine summit 2020 | world conference on vaccine and immunology | global vaccine safety summit 2019 | del bigtree who summit | what are different types of vaccines? | who summit 2020 | members of gavi | global advisory committee on vaccine safety | vaccinology conference 2019 | vaccines summit ohio 2020 | immunization conference 2019 | immunization awardee meeting | rotavirus conference 2020 | cdc meeting june 2019 | vaccines summit-2021 | world virtual vaccine summit | gavi covax amc | global vaccine covid | 14th global healthcare summit | vaccine upsc | vaccine summit-2021 | india ideas summit 2020 | east asia summit 2020 | gavi | gavi, the vaccine alliance | vaccine pledging conference | 14th global healthcare summit | vaccine conference 2020 | vaccine upsc | herd immunity upsc vaccine summit-2021 | global vaccine summit 2019 | bill gates foundation speeches | gavi, the vaccine alliance | vaccine pledging conference | east asia summit 2020 | vaccines summit 2019 | vaccine adjuvant conference 2020 | vaccine technology conference 2020 | vaccines r&d 2020 | immunization conference 2019 | immunization awardee meeting | immune registration | immunology conferenceseries | immunology conference 2019 uk | immunology congress 2019 rome | world vaccine and immunotherapy congress 2020 | world congress on vaccines and immunization | immunology world | global meeting on vaccines and immunology