We are pleased to announce our Experts Meet on Pharmaceuticals & Drug Delivery at Rome, Italy on October 25-26, 2021.
Pharma Meet 2021 is a global platform that covers the deep information of pharmaceutical science together with analytical and the techniques of Bio analytical, pharmacy clinical and dispensing, Medical chemistry and CADD, drug delivery systems, Organic Products, Clinical Pharmacology, biotechnology nanotechnology, Pharmaceutical Product Development And Manufacturing, Veterinary Pharmacology and Therapeutics, Industrial & Clinical Pharmacy, Pharmaceutical Formulations etc., and all other key topics related to pharmaceutical sciences & Drug Delivery Systems.
Aim & Scope
Pharma Meet 2021 aims to promote research and developmental activities in the fields of Pharmaceuticals & Drug Delivery.
Pharma Meet 2021 provides interaction between Pharmacists, Drug delivery experts, Pharmaceutical industries, the R&D department, Young Researchers, Ph.D. scholars, and other professionals to share their views and ideas in the areas of pharmaceutical technologies, drug deliveries.
Pharma Meet 2021 will give an intuitive, forefront and comprehensive conversation and networking format drove by key specialists within intimate knowledge in the industry. Gain practical methodologies and best practices on difficulties, developments, innovations and ideas environmental factors drugs and uncommon diseases.
We look forward to inviting you at Experts Meet on Pharmaceuticals & Drug Delivery.
Why Italy?
Italy is one of the significant drug markets in Europe and one among the couple of countries with positive exchange balance Pharma. The drug business is Italy's most serious assembling area, the refreshment, compound and apparatus enterprises. It is likewise the most profitable modern area in Italy. The Lombardy locale positions first for the quantity of individuals utilized in the drug business (28,000 individuals).
The Italian Medicines Agency (AIFA) is the public position liable for drugs guideline in Italy. It is a public body working independently, straightforwardly and as per cost-viability models, under the bearing of the Ministry of Health and under the cautiousness of the Ministry of Health and the Ministry of Economy.
The Experts Meet on Pharmaceuticals & Drug Delivery gathering causes you to get detail thoughts regarding these occasions where you can illuminate your insight and exploration results.
We welcome your generously presence towards our two days Conference of Experts Meet on Pharmaceuticals & Drug Delivery to the Economic city of Rome in the period of October.
Who should attend?
Professors
Students
Business Persons
Young Researchers
Scholars, Scientists
Pharmacists
Drug Manufacturers
Academic Labs
Educational Institutions
Researchers
Delegates
Exhibitors
Sponsors
Target Audience:
Directors, CEO's of Organizations
Business Development Managers
Chief Scientific Officers
R&D Researchers from Pharma Industries
Professors, Associate Professors, Assistant Professors
Students & PhD Scholars
Patent Attorneys
Investment Analysts
Association, Association presidents and professionals
Noble laureates in Health Care and Medicine
Bio instruments Professionals
Bio-informatics Professionals
Research Institutes and members
Supply Chain companies
Manufacturing Companies
CRO and DATA management Companies
Training Institutes
Business Entrepreneurs
Attendees can avail this:
Find the most recent items and advances to help your drug store from our backers and show corners
Organization with supports, exhibitors, speakers, and partners and Engage in intelligent talks
Get input on an early form of your most recent work
By going to a Pharma gathering, you'll leave away with more information, proficient contacts, and enthusiasm for your profession.
Pharma Meet 2021 welcomes everyone to join us for two – day conference to in the month of October.
Market Analysis
The worldwide drugs market was valued at $934.8 billion of every 2017 and will reach $1170 billion out of 2021, developing at 5.8%, as indicated by a new Pharma statistical surveying report by The Business Research Company.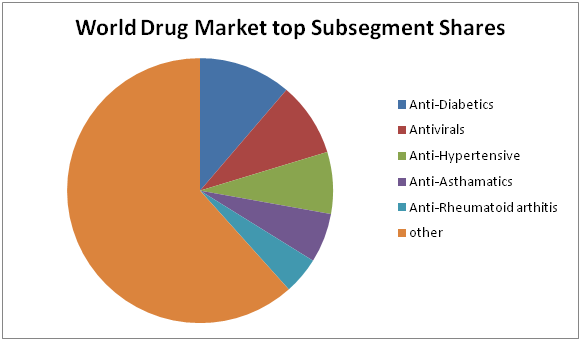 Key factors in the Pharmaceuticals
The biggest Pharma market internationally is for musculoskeletal medications. These are medicines for illnesses, for example, rheumatoid-and osteo-joint inflammation, osteoporosis, carpal passage condition, tendonitis, rotator sleeve tear, solid dystrophy, myasthenia gravis, lupus erythematous and others. Significant medications in this section incorporate Piroxicam Glaxo, Dolonex, Felden, and Piroxicam Pfizer. The section represented 14% of the worldwide complete in 2017. Cardiovascular, oncology and insect infective medications are the subsequent third and fourth biggest business sectors.
Medications for treating metabolic problems, for example, diabetes and infections of the thyroid and pituitary organs will be the quickest developing section of the worldwide Pharma market to 2021. This portion will develop at 9% a year going ahead, following late development of 11.6%, however it will stay in fifth spot for market size.
Italy is the second Pharma manufacturer in EU (aiming at becoming the first)
The drug business is the lone Italian assembling area as of now over the pre-emergency levels. Development, upheld by the solid increment of unfamiliar deals, is far reaching across all organization class sizes. Pharma's turnover reliably positions second in Europe, behind Germany, and in front of France, UK, and Spain
A € 30 billion worth turnover area, Italian pharma recuperated over its pre-emergency top in 2007, toward the finish of 2016
References links
https://blog.marketresearch.com/the-growing-pharmaceuticals-market-expert-forecasts-and-analysis
https://www.prometeia.it/en/atlas/industria-pharmaceutical-sector-italy-big-pharma
Our topics include
Pharmacogenetics and pharmacogenomics | Pharmacokinetics | Pharmacology | Pharmacovigilance | Pharmacy automation | Pharmacy business | Pharmacy Professional | Pharmacy sectors | Pharmacy technician | Pharmaceutical chemistry | Pharmaceutical compounding and extemporaneous preparation | Pharmaceutical preparations | Drug classes | Drug development funding | Drug dosage calculations | Drug information services | Drug labeling | Drug manufacturing & Drug pricing | Drug resistance | Drug storage& Drug switching | Drug-drug interactions | Drug-herb interactions | Drugs used in erectile dysfunction | Drugs used in urinary incontinence | Health communication and promotion | Health inequalities | Health technology assessors | Healthcare provision | Heart failure & Hepatitis C | HIV | Hospital doctor | Hospital pharmacy | Promoting quality and improving practice | Reducing medication errors | Using information technology | Participating in or running | outpatient clinics | Providing medicines information and advice | Monitoring prescriptions | Pain management | Parasitic diseases | Patents | Patient confidentiality | Patient group direction | Patient rights and advocacy | Patients | Pharmaceutical care | Pharmaceutical companies | Pharmaceutical industry | Pharmaceutical sciences | Pharmaceutical Services | Negotiating Committee | Pharmaceutical solutions | Pharmacist | Drug abuse | Drug design | Drug discovery and development | Drug implants | Drug interactions | Drug legal status | Drug packaging | Drug repositioning | Drug stability | Drug Class | Drug-food interactions | Drug Legal Status | Drugs used in prostatic hyperplaesiam | Haematinics | Hematology | Hallucinogens | Pharmaceutical scientist | Pharmaceutical Services Negotiating Committee | Pharmaceutics | Pharmacist Support | Pharmacists' Defense Association | Pharmacoepidemiology | Pharmacognosy and herbal medicine | Pharmacological phenomena | Pharmacotherapy | Pharmacy | Pharmacy bodies | Pharmacy practice | Pharmacy Research UK | Pharmacy specialist groups.
Related Conferences:
International Conference on Pharmaceutics and Drug Discovery | The IRES - 1102nd International Conferences on Medical and Health Science (ICMHS) | NSQH - Nordic Conference on Research in Patient Safety and Quality in Healthcare | 8th World Conference on Pharmaceutical Science and Drug manufacturing | Global Conference on Pharmaceutical Research and Drug Development GPD 2021 | International Pharmaceutical Business Expo - iPharma Expo 2021 | 14th International Conference on Pharmaceutics and drug safety | 4th Edition of Global Conference on Pharmaceutics and Novel Drug Delivery Systems | 859th International Conference On Pharma and Food ICPAF | International Conference on Pharmaceutics and Novel Drug Delivery System | 4th International Conference on Pharmaceutical Sciences | Pharmacovigilance 2021 | Drug Delivery Formulation 2021 | Pharmacology 2021 | Pharma: Clinical 2021 | International Conference on Medical Health Science | Pharmacology & Bio Technology | 4th Edition of Global Conference on Pharmaceutics and Novel Drug Delivery Systems | Global Pharma Summit 2021 | 6th Pharmaceutical Chemistry Conference | 22nd International Conference and Exhibition on Pharmaceutics & Novel Drug Delivery Systems | International Conference on Pharmaceutics and Drug Discovery | 14th European Biosimilars Congress | 2nd European Conference on Pharmacovigilance and Drug Safety | Pharmaceutics 2020 | 3rd International Conference and Exhibition on Pharmaceutical Nanotechnology and Nano medicine | 14th International Conference on Pharmaceutics and drug safety | 14th International Conference and Exhibition on Pharmacovigilance & Drug Safety | 15th International Conference on Genomics & Pharmacogenomics | 27th World Congress on Pharmacovigilance and Clinical Trials | 14th World Drug Delivery Summit | 4th International Conference on Pharmaceutical Research & Innovations in Pharma Industry | 21st World Conference on Pharmaceutical Chemistry and Drug Design | 2nd International conference on Pharma Industry & pharmaceuticals | World Congress on Toxicology and Applied Pharmacology