In the light of this theme - Developing Innovations and Applications in Material Science Research, Mat Conference 2020 aims to provide a forum for international researchers and academicians from various areas of chemistry, pharmacy, materials science and chemical engineering by providing one kind of platform for critical analysis of new designing, and to share latest cutting-edge research findings, most recent movements and latest upgrades inside the field of Nanotech and Material Science with explicit keynote lectures, plenary sessions, Poster competition, Young Researchers' Forum (YRF), Workshops, Symposiums and Exhibitions from elite researchers, distinguished scientists and business delegates. It allows delegates to have issues addressed on Nanotechnology and Materials Science by recognized global experts who are up to date with the latest developments in the field of materials science and manufacturing technology to a common forum.
The Organizing Committee would like to invite all the Scientific Community to participate in this project, presenting papers or communications related to any of the proposed areas.
Aim
The Mat Conference 2020 is an emerging and challenging field to study and acquire the knowledge of materials which are composite. It has provoked and contributed to the emergence of various nanomaterial, biomaterials, electronic, optical, magnetic materials, ceramics, glasses, polymers, metal alloys, smart materials, semiconductor materials and design of complicated structures through the advancements in the study of materials science.
The research in the field of materials science has an exponential growth throughout the globe and the potential of its manifestation and has been observed by conferences on materials science by providing platforms where the latest trends in such researches are accelerated by gathering world renowned scientists under one roof.
Importance & Scope
The field of materials have made the development in different fields in science and technology and also contributed towards the improvement of the quality of human life to a great extent. The aim of Mat Conference 2020 conference is to provide an opportunity for the delegates to meet, interact and exchange new ideas in the various areas of Material Science.
Who should attend?
It is a great opportunity to network with your peers from academia and industry:
All the Stake Holders (both Academia & Industry) of the Sector
Researchers & Innovators
Experts Looking for Collaborative Work
Product Developers
Solution Providers
Sales & Marketing Professionals
Associations, Societies, & Professional Bodies
Funding Agencies & Fund Raisers
Management Bodies
Decision Makers
Target Audience:
Material Chemistry and Science Association and Societies
Material Chemistry and Science Researchers
Material Chemistry Students, Scientists
Directors of Material companies, Chemical companies
Material Chemistry Engineers
Material Science Students
Chemists
Material suppliers
Consulting companies
Exhibitors
Industry Investors
Market and Business Analysts
Materials Science Association and Society Members
Mechanical/ Chemical Students
Directors of Chemical and Materials Science Companies
Junior and Senior Research Fellows of Materials Science
Others
Why to attend?
The Great opportunity to connect with attendees from different views and perspectives, make new relationships, and strengthen existing ones and to be the first to showcase your research, innovation and brand to gain competitive advantages. Meet your target audience and explore your product and services.
To Meet Experts
Learning In a New Space
New Tips & Tactics
Certification
Global Networking
Rebuild New Customer Base
Brand Establishment
Why Dubai?
Dubai is a city in the United Arab Emirates, situated within the emirate. The conferences are an important workshop for academicians, researchers, scholars Practitioners, and experts, industrialist across the globe to participate and share their experience, research with experts of different fields can share their work. 2nd Edition of Material Science Congress in Dubai has been active in taking the knowledge in different field like Science & technology, health and medicine, engineering and technology. Expert speaker groups at these conferences address opportunities for further research, latest skills, and capabilities as well as the best practices required.
Participant has an excellent opportunity to join the conferences in Dubai and became part of this conference by presenting your research and shares your knowledge in the multiple disciplines. This conference will provide an opportunity to exchange new ideas, its solicitation prospects, and prospect to establish research relations and to find global partners for future collaboration.
Scientific Sessions:
Material Science & Engineering
Advanced Materials Design & Processing
Bio Materials & Healthcare
Computational Materials Science
Electronic and Magnetic Materials
Fundamentals of Materials Science
Materials for Energy Application
Materials in Energy
Materials in Green Technology
Materials in Industry
Materials in Research
Metal Casting Technology
Metals, Mining, Metallurgy and Materials
Nano Biomedicine
Nano Composites
Nanotechnology in Materials Science
Soft Materials & Polymers
Nano Scale Materials & Nanotechnology
Graphene and 2D Materials
Physics and Chemistry of Materials
Emerging Smart Material
Electronic, Optical & Magnetic Materials
Ceramics and Composite Materials
Green and Energy Materials
Functional and Structural materials
Semiconductors and Superconductors
Materials Manufacturing and Processing
Surfaces, Coatings and Films
Condensed Matter Physics
Bio-polymers and Polymer Chemistry
Nonlinear Dynamics
Pharmaceutical Nanotechnology
Tissue Engineering
Market Analysis:
Global advanced material market is expected to reach USD 1,978,331.6 Million by the end of 2024 from USD 1,370,242.2 Million in 2016. Advanced material market is anticipated to achieve absolute $ opportunity of USD 510,244.1 Million 2018-2024. Additionally, advanced material segment is expected to grow at a CAGR of 5.1% over the forecast period i.e. 2018-2024. Moreover, advanced material segment is expected to observe the growth rate of 1.3x over the forecast period. Advanced Material segment is expected to achieve Y-o-Y growth rate of 6.4% in 2024 as compared to previous year.
Global market material science companies:
BASF
Evonik
H.C. Starck
Bayer MaterialScience AG
DuPont
KGaA
Koninklijke Philips N.V.
LG Display
Novaled GmbH
Samsung Display
Sony Corporation
Sumitomo Corporation
Universal Display Corporation
AU Optronics Corporation
National Oilwell Varco, UAE
Z-Careers– Al Fujayrah, UAE
SCCB, UAE
3McDermott, UAE
Market Segment by Product Types:
Semiconductor
Conductive
Dielectric
Substrate
Other
Market Segment by Applications:
Battery
Conductive Ink
Display
Sensor
Top universities in Dubai:
Masdar Institute of Science and Technology
United Arab Emirates University
American University of Sharjah
Petroleum Institute Abu Dhabi
Khalifa University
Zagazig University, UAE
Masdar Institute of Science and Technology, UAE
Top laboratories in Dubai:
Independent Soil Testing Laboratories
Material Lab Testing Services LLC
Arab Center for Engineering Studies
Baynunah Laboratories
Exova Group
Gulf Lab for Geotechnical & Building Materials Testing
Technical Lab
Spektra Jeotek
Material Science Associations around the Globe
American Chemical Society
American Physical Society
The Materials Information Society
The Materials Research Society
Microscopy Society of America
The Minerals, Metals & Materials Society
Sigma Xi: The Scientific Research Society
International Society for Optical Engineering
The American Ceramic Society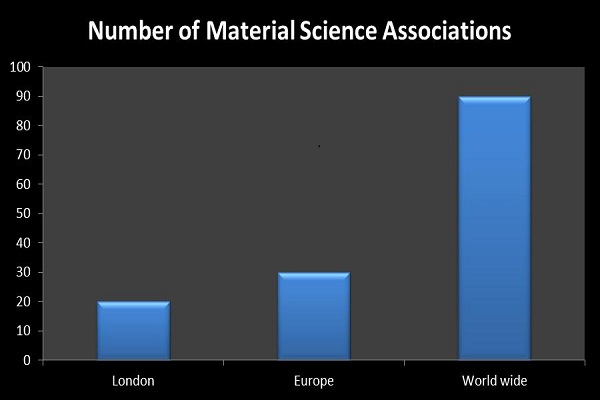 Figure 1: Statistical analysis of materials science associations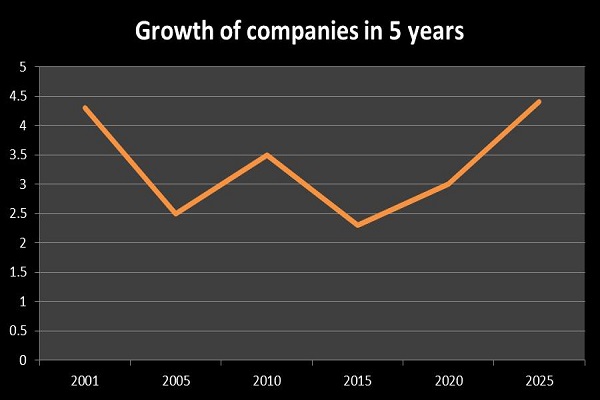 Figure 2: Number of Growth of companies in 5 years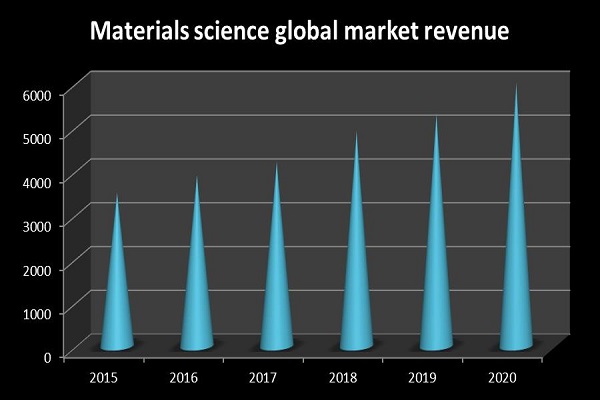 Figure 3: Statistical analysis of materials science global market revenue
References:
https://www.researchnester.com/reports/advanced-materials-market-global-demand-analysis-opportunity-outlook-2024/448
https://www.marketwatch.com/press-release/organic-electronics-market-2019-global-market-size-share-future-challenges-revenue-demand-industry-growth-and-top-players-analysis-to-2025-2019-09-11
http://www.oilandgasdirectory.com/profile/details/10836/Spektra-Jeotek.html
https://www.usnews.com/education/arab-region-universities/materials-science?
https://www.meetingsint.com/conferences/materialscience/about-us
---
---
Key words:
Material Science and Engineering | Nano Materials | Polymer Science | Energy chemistry | Electrochemistry | Molten salt | Ionic liquid | Fuel cell | Secondary battery |Hydrogen energy | Solid state physics | Optical properties of sollids | Amorphous semiconductors | Micro-characterization | Compound Materials | Inorganic Material Chemistry | Crystal Chemistry | Electrochemistry | Solid State Chemistry | Electrochemical Materials | Bio-environment adjusted material | Functional Material Chemistry | Nuclear Fusion and plasma theory | nonlinear and non-equlibrium plasma physics | Hierarchical simulation | Laser-matter interaction | Nano-science | Solar Energy | Organic Photovoltaic Cells | Theoretical Biophysics | Statistical Mechanics of Liquids | Design of Biomacromolecules | Protein Engineering | Synthetic Biology | Solar Energy Utilization | Bioenergy | Nuclear reactor experiment and analysis | Development of radiation detection system | Biomass | Structural Biology | Thermal Engineering | Power Engineering | Internal Combustion Engine | Pollutant Emission Control | Alternative Fuels | Thermo-Fluid Science | Combustion Science and Engineering | Alternative Fuels |Laser Diagnostics and Image Analysis | Computational Fluid Dynamics | Strength of Materials | Elastoplasticity | Macro-micro Integrated Analyses | Ceramics Coated Materials | Functional and Intelligent Materials | Computational Mechanics | Electromagnetic Materials | Nondestructive Evaluation by Ultrasonics | Micromechanics of Solids | Materials Science for Environment and Energy | Fusion Reactor Materials | Nuclear Materials | Nano-oxide Particles Dispersion Strengthened Alloys | Computational Materials Science | Plasma Physics | Microwave Technology | Accelerator Physics | Charged Particle Beam Physics | Compact Fusion Neutron Source | Applied supercondcutivity energy apparatus | Power system Engineering | Cryogenic Engineering | Thermal hydraulics | Materials processing | Electrochemical processing | Functional materials | Computational Physics | Working Process | Thermal Fluid Engineering | Process Simulation | Advanced Processing of Eco-materials | Physics of Energy Materials | Nuclear Fusion Engineering | Aerospace Material System | Ceramic Matrix Composites | Laser Scicence | Qunatum Electronics | Nonlinear Optics | Atoms;Molecules;Solid-Surfaces | Materials Control | Energy and Environment | Atmospheric Environment | Environemntal Impact Assessment | Life Cycle Assessment | Molecular electrochemistry | Molecular electronics | Molecular modeling | Monolayers | Electromagnetic field | material processing using vibration | crystal orientation | microreactor | advanced heat exchanging device | Molten salt chemistry and electrolytic engineering | metallic resource recycling | spectroscopic in-situ evaluation of metal surface reactions | creation and evaluation of functional electrodes | corrosion engineering | hydrogen energy engineering | Microstructure control | Computational materials science | Solidification science | Data science | Structural materials | Numerical modeling of microstructural processes | Atomistic simulation | Nanomaterial synthesis | physical property evaluation and application development | development of electroconductive pastes | design and development of ecofriendly nanomaterials | development of electron microscopes | Nanomaterials for energy transfer | Secondary battery materials | environmental degradation involving metallic materials | microstructure analysis for oxide films | micromachining atomic force microscopy | new electrolytic capacitors | ceramic capacitors | inorganic-organic composite materials | photochemistry and artificial photosynthesis | Biomaterials | Condensed-matter physics | Materials for devices | Materials for energy and catalysis | Materials for optics | Nanoscale materials | Soft materials | Structural materials | Techniques and instrumentation | Theory and computation | Biomimetic Materials | Calcium Phosphates | Oxide Ceramics | Bacterial Mineralization | Biological Materials | Biological Optical Materials | Biomimetic Mineralization | Biosynthesis | Biosynthesized Materials | Bone Mineralization | Collagen Derived Materials | Construction Materials | Engineered Bacteria | Liquid Crystalline Polymers | Mechanical Optimization | Natural Cellulose Fibers | Natural Composites | Natural Materials | Natural Polysaccharides | Natural Protein Fibers | Pearl | Polymers | Bacterial Polyesters | Biocompatible Hydrogels | Biodegradable Polymeric Materials | Biotechnology | Chromophores | Elastomeric Properties | Polysaccharide Crystallization | Porphyrin-based Materials | Starch Polymers | Activated Carbon | Carbon Aerogels | Carbon Blacks | Non-graphitizing Carbons | Carbon Nano-fibers | Carbon Nanotubes | Fullerene Formation | Natural Diamond | Battery Carbons | Graphite Intercalation Compounds | Nuclear Graphite | Ceramic Matrix Composites | Clay-based Polymer Nanocomposites | Fibrous Ceramics | Nanoscale Ceramic Composites | Polymer-Ceramic Nanocomposites | Glass Optical Fibers | Electroceramics | Electrostrictive Ceramics | Glass Ceramics | Optical Glasses | Sol-Gel Methods | Polymer-modified Ceramics | Reactive Ceramic Nanocomposites | Thermostructural Ceramics | Composite Materials | Microstructural Design | Functionally Graded Materials | Biocomposites | Ceramics | Hardmetals | Polymer-based Nanocomposites | Composites | Polymer Matrix Composites | Polymer Nanocomposites | Amorphous Materials | Nanocrystalline Materials | Inorganic Nanotube Materials | Coolant Materials | Moderator Materials | Nuclear Reactor Materials | Reflector Materials
Related Conferences:
Material science conference 2020 | emerging materials 2020 | material science conference 2020 europe | materials summit 2019 | euro materials science 2020 | metallurgy conference 2020 | mrs conference 2020 | material science conference 2020 | material science exhibition | matsciengg 2019 | emerging materials 2020 | admat2019 | euro materials 2019 | ceramics 2019 london | emerging materials 2020 | emerging materials for green environment | euro materials science 2020 | biomaterials conferences | materials conference 2020 usa | additive manufacturing conferences 2020 | minerals metallurgy | materials science congress 2020 barcelona | future materials 2020 lisbon | polymer connect 2020 | euro materials science 2020 | graphene 2019 orlando | metallurgy conference 2020 | ieee nano 2020 | advanced materials conference 2019 | international conference in materials 2020 | ceramics 2019 london | emerging materials 2020 | emerging materials for green environment | euro materials science 2020 | biomaterials conferences | metallurgy conference 2020 | nanotechnology conferences 2020 usa | nano 2020 melbourne | nano science and technology-2020 | nanomaterials 2020 euroscicon | smart nanomaterials 2019 | nanomedicine conference 2019 uk | nanomaterials 2019 dubai | advanced materials conference 2020 | nanoconference | nanotechnology 2019 | nanotechnology conferences 2020 usa | frontiers in nanotechnology and nanomaterial | euro nanoscience 2019 | nanotechnology 2019 | nanocongress 2020 | nano today conference 2019 | polymer science conference 2020 | polymer chemistry conferences | advanced materials conference 2019 | material science conference 2019 japan | advanced materials congress 2019 singapore | ceramics conference 2019 | ceramic society of America | metallurgy conference 2019 | materials science conference usa | metallurgy conference 2020 | materials science conferences in canada 2019 | conference 2019 material science | 10th world biomaterials congress | world biomaterials congress 2022 | society for biomaterials 2019 conference | conference biomaterials | 2020 joint fall symposium | society for biomaterials 2017 | international conference on biomaterials 2019 | biomaterials conference 2019 usa | euro materials 2019 | biomaterials organizations | ipsc conference 2020 | senescence conference 2019 | tissue engineering conference 2020 | mechanical 2020 | advanced functional materials congress | future materials | materials science conferences | winter workshop 2020 icacc | icacc florida | icacc 2021 | ceramic society conference | icaaca 2020 | international conference on ceramics 2020 | us ceramics | ceramic association | amse japan | icmda 2019 | materials conference singapore 2019 | asme 2020 conference | sci indexed conferences 2019 | icmars 2019 | advanced materials 2020 singapore | asme conference 2020 | aem 2019 surrey | aem conferences | energy materials conference 2020 | material science and nanotechnology jobs | mechanical engineering nanotechnology | nanotechnology engineering salary | nanotechnology engineering degree | nanotechnology study material | nanotechnology careers | nanotechnology after mechanical engineering | soft materials engineering | advanced materials design | properties of soft materials | Material Science and Engineering 2020