Annual Meeting on Aquaculture & Marine Sciences provides the platform to the International scholars and researchers to voice their research discoveries from the Oceanography associations, Aquaculture, Animal Welfare, Shellfish Societies, Aquatic Studies, Fisheries, Marine Science societies and Aquaculture Academicians in front of the World.
This is one kind of scientific platform with explicit Plenary sessions, Poster competition, keynote lectures, Young Researchers' Forum (YRF), Workshops, Symposiums and Exhibitions from elite researchers, distinguished scientists and business delegates.
Attendees will study about several matters related to aquaculture & marine science.
Aqua Conference – 2020 welcomes everyone to join us for two – day conference at Bangkok in the month of October.
We look forward to welcoming you to Bangkok "the city of Angels" in October.
Aim & Scope
Aquaculture is especially significant for meeting the world's increasing demand for fish. As fish need a minor environmental footprint than other animal source food, aquaculture is a more environmentally sustainable choice for meeting the world's food wants than other animal source foods.
Our conference aims:
Provide opportunities for Academicians and researchers to share their ideas
Expanding your knowledge by exploring the presentations of new techniques under one platform
The get-together provides the overall field to international researchers to voice their investigation revelations to the world.
Why should attend?
Aqua Conference – 2020 offers a great opportunity to build International contacts in the field of Aquaculture & Marine Sciences. The conference provide a great platform to share and gain new thoughts relating to recent researches and developments. The researchers and Scientists will come to know about more information regarding their recent research topics and will be able to establish their view at Worldwide.
Best platform for Global business and networking opportunities
Meet Consultants & Influencers Face to Face
Abstracts will be published in the conference proceedings
Certificates will be provided to all speakers, delegates and students
Opportunity to meet World's renowned at this event
Oral/Poster presentations by Young Researchers
Target Audience
Aqua culturist and Oceanographers
Aquaculture nutritionist
Aquaculture & Fisheries industries
Marine biology Professionals
Aquaculture & Fisheries Associations, Societies and Training Institutes
Aquaculture and fisheries farmers
Fisheries/ aquaculture students
Academicians and researchers in aquaculture
Environmental researchers, engineers & scientists
Aquaculture Geneticist
Market Analysis
Importance
All over the world, the demand for seafood has improved because people have well-educated that seafood's is part of regular diets are healthier and help fight cardiovascular disease, cancer, Alzheimer's and many other major illnesses [1].
Benefits
Production of food consumption is increased.
Employment rate is increased, especially in rural areas.
National Exporting is increased.
Why Thailand?
Aquaculture plays an important role in Food security and the economy and it is developed since the beginning of the century in Thailand.
Thailand is the top fish producing country in the world. Fish is one of the most important protein foods for Thai people. The fish consumption for annual per capita was probable at 27.2 kg in Thailand [2].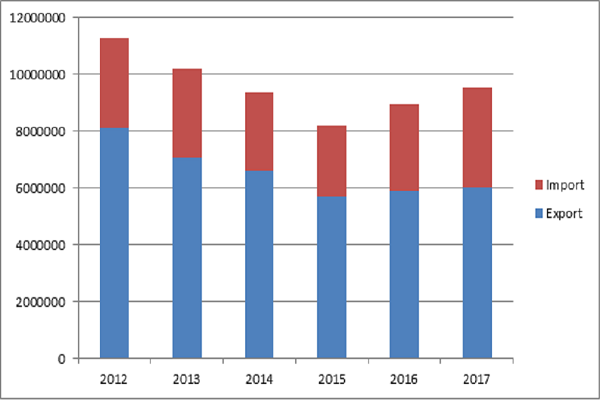 Figure 1: Total Import and Export of Fish and Fishery products in Thailand (1000 USD) [3]
Aquaculture market valued at $169 million in 2015 and is expected to increase at a Compound annual growth rate of 5.3% to reach $242 billion by 2020.
According to the Food and Agriculture Organization of the United Nations, aquaculture provides an employment to more than 41 million people in the world.
The fish oil market is separated into regions. Asia Pacific region is estimated to witness high growth in the market in estimated period.
North America is estimated to see high growth in future time span due to high demand in health care sector.
Europe is expected to lead the global Fish oil market over the projected period majorly owing to high consumer awareness, well technological connectivity [5].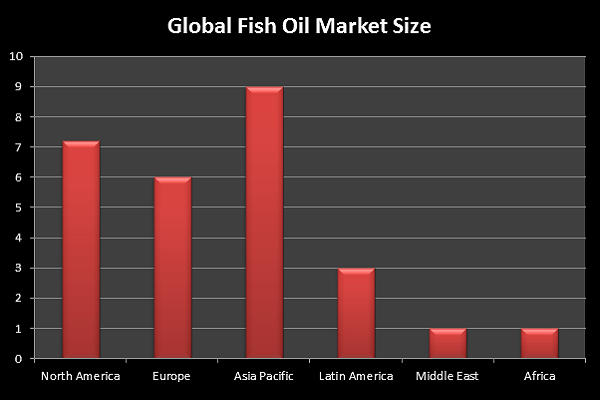 Figure 2: Global Fish Oil Market Size, Share Analysis by Region
Funding
Government and private sector funding initiatives have been gradually rising throughout 2017, with more growth on the horizon. China, Russia, and the US are among some of the largest government contributors to aquaculture funding.
US Government Funding: The National Oceanic and Atmospheric Administration are offering a $450,000 for marine aquaculture projects.
Chinese Government Funding: The Chinese government is supporting to develop the aquaculture farm to the tune of $151 million dollars.
Russia Government Funding: Russia Aquaculture is a largest aquiculture company with the huge $17 million dollars [4].
Fishery and Aquaculture Societies
World Aquaculture Society Meetings
Network of aquaculture centers in Asia-pacific
American Fisheries Society
Asian Fisheries Society
American Tilapia Association
Aquaculture Association of Canada
Brazilian Association of Shrimp Producers
British Columbia Shellfish Growers Association
California Aquaculture Association
Bureau of Fisheries and Aquatic Resources
Canarian Association of Fish Farmers
China Society of Fisheries
Dutch Aquaculture Society
References
---
---
Keywords
Marine Pharmacology | Marine and Coastal Fisheries | Freshwater Biology | Advancements in Aquaculture | Importance of Aquaculture | Aquaculture Sustainability | Nutrition and Diseases in Aquaculture | Fisheries and its Farming | Fisheries Management | Sea Food and Nutrition | New Technologies in Fisheries | Fisheries Statistics | Climate change | Aquaculture and Fisheries Resources | Livestock Production | Aquaculture Production | Aquatic Biotechnology | Aquatic Ecology | Aquatic Immunology | Aquatic Organisms | Aquatic Physiology | Aquatic Toxicology | Biological filtration in aquaculture | Crab and lobster aquaculture | Design of production systems | Environmental conditions, feeding and fertilization factors | Fish Farm Management | Fish Farming Techniques | Fish Feeds and Nutrition | Fish Genetic Improvement | Fish Genetics & Biotechnology | Fish Nutrition | Fish Pathology & Physiology | Fisheries Conservation & Management | Food security and nutritional improvements | Global Aquaculture Market | Harvesting method | Marine Bentology | Marine Farming | Marine Geoscience | Marine Paleoecology | Marine Toxicology | Nano aquaculture | Oceans & Eco System | Optimizing Water Resources | Oxygen and aeration | Oyster Production| Recirculating Aquaculture System | Salmon Farmers | Sea Food Handling | Sea Food Sustainability | Shellfish Fisheries | Shrimp culture | Sustainable aquaculture | Sustainable Utilization of Marine Resources | Water and Demersal | Aquaculture and Fisheries | Fisheries Science | Marine Science | Marine Biologist | Disease Diagnosis & Management | Mariculture and Seaweed Culture | Freshwater Aquaculture | Marine Finfish Farming | Shellfish Farming | Integrated Aquaculture | Oceanography and Limnology | Fisheries Research | Aquaculture Biotechnology | Marine Biotechnology | Advance Technology in Aquaculture and Fisheries | Fishing and Fish Farming Techniques | Fish Genetics and Fish Biotechnology | Fish Health Management | Aquatic By-products and Applications | Aquatic Health Management | Aquatic Immunology Diseases | Freshwater Fisheries | Fisheries Conservation and Management | Aquaculture Systems | Sea Foods in The Supply chain | Sustain the Aquatic Ecosystems | Sustainable Fisheries Management | Aquaculture development | Feeding and nutrition in Aquaculture | Aquaculture and Fisheries economics | Biotechnology and genetics in Aquaculture | Aquatic health management and diseases | Oceanography & Environmental impacts | Fish Biology: Immunology, Physiology & Pathology | Fisheries, Aquaculture and climate change | Quality assurance in Aquaculture | Micro and macro algae farming | Aquaculture of ornamental species | Aquaculture production and food safety | Sea food sustainability & safety | Organic aquaculture | Demurral fisheries reproduction & breeding | Aquatic resources and environmental management | Environmental impacts of aquaculture and/or fisheries | Marine biology, oceanography and conservation | Fisheries management, policy and governance | Cage farming | Fish Pathology | Fishing Techniques | Fisheries Science and Fish Nutrition | Fish Disease and Parasites | Fish Physiology | Fisheries Industries Update | Aquaculture Methods | Aquatic Parasitology & Immunology | Advance Technologies in Aquaculture and Fisheries | Industrial Aquaculture | Water Pollution: Aquatic Life | Seafood Supply Chain Management | Human Impact on the Sea | Marine/Ocean Ecology & Marine Resource Management | Hydrology & Hydro-geology | Coastal oceanography | Marine Geology | Marine Pharmacognosy | Marine Genomics | Marine Ecotoxicology | Marine Pollution | Ocean Biogeochemistry | Ocean Engineering & Marine Energy | Marine Chemistry | Water Security & Water sustainability | Marine & Coastal biodiversity| Deep-sea corals
Related Conferences
Aquaculture conference 2020 | World aquaculture conference 2020 | World aquaculture conference 2019 | Aquaculture conference 2020 Hawaii | World aquaculture conference 2020 Tokyo | International conference on fisheries and aquaculture 2019 | Aquaculture America 2021 | Aquaculture conferences 2020 | World aquaculture conference 2020 | International conference on fisheries and aquaculture 2019 | World aquaculture conference 2019 | International conference on fisheries and aquaculture 2020 | World aquaculture conference 2020 | Aquaculture conferences 2019 | International conference on fisheries and aquaculture 2020 | World aquaculture society 2020 | Aquaculture conference 2020 Hawaii | Aquaculture conference 2020 | World aquaculture society 2020 | World aquaculture conference 2020 | World aquaculture conference 2019 | World aquaculture society 2020 | World aquaculture society 2019 | World aquaculture society conference 2020 | Aquaculture conferences 2020 | Fisheries conferences 2020 | International fisheries conference 2020 | Fisheries conferences 2019 | International fisheries conference 2019 | International conference on fisheries and aquaculture 2019 | International conference on fisheries and aquaculture 2020 | Aquaculture conference 2020 | Aquaculture conference 2019 | International fisheries conference 2020 | Fisheries conferences 2019 | International conference on fisheries and aquaculture 2020 | World fisheries congress 2020 | International fisheries conference 2019 | Fishing conference 2019 | World fisheries congress Adelaide 2020 | Fisheries conferences 2020 | International fisheries conference 2020 | International fisheries conference 2019 | Fisheries conferences 2019 | Thailand fisheries conference | Aquaculture conference 2019 | American fisheries society conference 2019 | American fisheries society conference 2020 | Marine science conferences 2019 USA | Marine science conferences 2020 USA | Marine biology conferences 2020 | Marine conservation conferences 2020 | Marine conservation conferences 2019 | Marine biology conference 2019 | Ocean conferences 2020 | Marine ecology conference 2020 | Marine science conferences 2019 USA | Marine science conferences 2020 USA | Marine biology conferences 2020 | Marine conservation conferences 2020 | Marine conservation conferences 2019 | Marine biology conference 2019 | Marine conferences 2020 | Marine ecology conference 2020 | Ocean science conference | Marine physiology conference | Marine mammal conferences | Marine conferences 2019 | Ocean conferences 2020 | Marine conferences UK | International ocean research conference | Ocean literacy conference 2019 | Marine conferences 2019 | Marine conferences 2020 | Seaweb seafood summit 2020 | Seaweb seafood summit 2019 | Seafood summit Bangkok | Seafood investor forum | Intrafish seafood investor forum 2019 | New York seafood summit 2020 | Seafood exhibition | Seafood expo Brussels 2020 | Boston seafood show 2020 | Brussels seafood show 2020 | Boston seafood expo 2020 | Seafood Brussels 2020 | International seafood show 2020 | Brussels seafood show 2019 dates | International conference on fisheries and aquaculture 2020 | Aquaculture conference 2019 | Fisheries conferences 2019 | Aquaculture seminar | Aquaculture events 2019 | Aquaculture UK 2020 | Aquaculture UK 2019